Below is a list and brief description of books about Autism and Asperger's Syndrome. Many of these books are available in our lending library, so contact Amy Idzior if you would like to read one of the books. Knowledge is power, so we want to offer parents as many resources as possible. Please understand that these are just recommendations and the strategies taught may have different effects on your individual child. It is your choice to read and use these techniques at home.
"You're Gong to Love This Kid!" by Paula Kluth discusses how to effectively use inclusion for students who have ASD.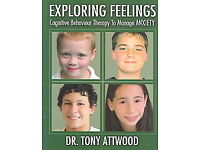 Dr. Tony Attwood has written many books that are reference ("The Complete Guide to Asperger's Syndrome") as well as tools to help children with Asperger's ("Exploring Feelings"). Visit his web site for more book information (
http://www.tonyattwood.com.au/
).
"My Social Stories Book" by Carol Gray uses social stories to explain social rules. For more books like this, visit Carol Gray's web site at http://www.thegraycenter.org/
"Power Cards" by Elisa Gagnon shows how to use the child's special interest to better understand the rules of their world.
"Solving the Relationship Puzzle" by Steven Gutstein details the strategy of Relationship Development Intervention (RDI) to encourage eye contact, referencing, and flexibility of thought in children who have ASD.
"The Everything Parent's Guide to Children with Asperger's Syndrome" by William Stillman
"The Everything Parent's Guide to Children with Autism" by Adelle Jameson Tilton

"Unraveling the Mystery of Autism and Pervasive Developmental Disorder" by Karyn Seroussi is a novel about a mother's journey to use diet (GFCF) to help the biomedical issues her son was experiencing because of ASD.
"Let Me Hear Your Voice" by Catherine Maurice is a novel about a mother's journey to use Applied Behavior Analysis (ABA) to help her children with ASD learn to talk and play with others.
"The Curious Incident of the Dog in the Night-time" by Mark Haddon has a boy with Asperger's as the main character. It really helps the reader see an example of the thought process of someone with Asperger's.
"
Asperger Syndrome, the Universe and Everything" by Kenneth Hall who is a teen that has Asperger's. He describes his short life so far and learning to accept himself as he is as well as tips for adults working with kids who have Asperger's.
"Buster and the Amazing Daisy" by Nancy Ogaz who has a son with Asperger's. The fiction story is about a girl with Asperger's and how the class pet helps her overcome her fears.
"Andy and His Yellow Frisbee" by Mary Thompson is about girl who tries to become friends with a boy who has Autism and how she learns to be a true friend.